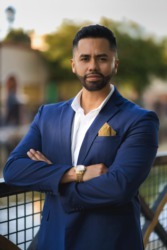 Team Leader at The Closers Team with Werx Realty.
A former owner of a successful small business, I specialize in the sale of new and existing homes in the Bakersfield area. Prior to real estate I oversaw the marketing and public relations campaigns for Fortune 500 companies in California before opening a legal training school company, which I eventually sold before entering real estate.
Why I'm Different
Leveraging my experience as a successful business owner, I am know for outstanding client service 24/7 availability, high tech marketing techniques, personal touches and as a skill negotiator with my client's best interest at heart. I believe strongly them throughout every step of the process armed with top-notch information and market insight, so that my clients make the best decisions possible. I honest, sometimes telling clients things they might not want to hear, hard working and extremely knowledgeable about the real estate industry.
In My free time
I love to spend as much time with my little princess name Olivia, write kid's books, play tennis, cook and work out.